Welcome!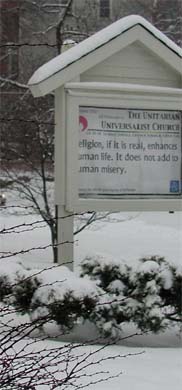 We are so glad you are here! If you are looking for a church where you will be accepted for yourself, where you may pursue your own quest for meaning and understanding in a complex world, we hope you will consider joining with us. Like many people, perhaps you feel that what you want in a religion cannot be found in any church; perhaps you therefore feel you do not need or want any church. Many of us know those feelings very well having experienced them ourselves. But consider the Unitarian Church in Fall River and what we offer.
We are part of a long tradition of free and liberal religion. We make no demands of you of doctrine or dogma, but ask that you keep an open mind, trust your experience, respect other's opinions, and pursue your own quest. We want our religion and yours to make sense, to meet real needs, and to help make our world a better place for everyone.
We welcome anyone seeking wisdom and understanding, who sees life as an adventure and a challenge, who values the open quest for truth, beauty, and goodness, and who finds spirituality in many different ways. With your help and participation, we will grow and strengthen, to expand our programs and services, and to continue to be a clear liberal voice in our region.Hi to our family and friends,
SAVE THE DATE! . . . Coming to our house on October 23rd is Kevin Carson, M.Div. His sermon is titled, "The Sacred and the Profane". One of the essential qualities of religion is to define and hold up the sacred in whatever form it may take. What is sacred for Unitarian Universalists, and how does it relate to the worldly or profane? Interesting and thought provoking topics continue to be explored every week at the Unitarian Church.
Kevin Carson, M.Div. graduated from Andover Newton Theological School in 2013. He lives in Johnston, Rhode Island with his wife and teenage daughter. Originally from Chattanooga, Tennessee, Kevin and his family moved to New England twelve years ago. He was raised Methodist but has been a UU for over 30 years as a member of congregations in Tennessee, Texas, Rhode Island, and Massachusetts.
We hope that you will join us, as we continue a renewed search for our place in this small world, and bring a friend or two.
You will find a welcoming climate for your beliefs. See you Sunday.
Remember to check out our PSA announcement on youtube.
Our Services
Please join us on Sunday mornings for services at 10:30 a.m. Please check the "Newcomers" page for additional information you may find helpful.
The Unitarian Church in Fall River (what it looked like when it was moved to it present location, before the arson fire of 1983)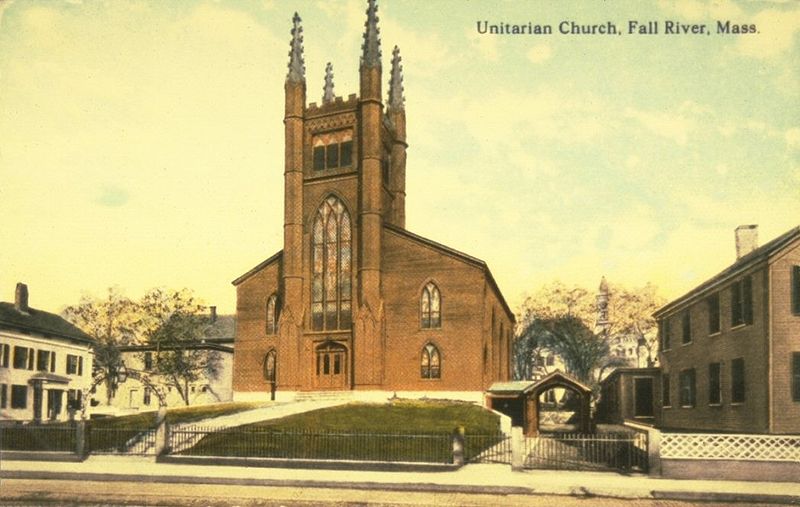 Our History....In the early 1830's, Fall River was becoming a successful mill town making cloth and thread. It was a busy town, experimenting with machinery driven by water or steam power to spin, weave, and finish textiles, successfully using the newest methods. Fall River was also a sea town, and ship building and trade were also important, not only economically, but in bringing new ideas from all parts of the world. These new ideas were not only economic.
Many of the town's young and successful people were dissatisfied with what they felt was the narrowness of the then five existing churches and their approaches to religion. To hear liberal preachers sometimes they walked to Newport to listen to William Ellery Channing or to Providence to hear Edward H. Hall. Channing was a Newport native who served the Federal Street Church in Boston (now the Arlington Street Church) and who returned in the summer to Newport. Hall was also a prominent preacher in a major Unitarian Church, and the listeners were taken with the idea of a rational religion.
Tiring of the inconvenience of traveling to worship, in 1831, they petitioned the Massachusetts General Court to draw up an Act of Incorporation. It was signed in January 1832. Unitarian services were begun and in 1834 they called their first minister and erected a new building. It was dedicated in January 1835. Eventually, as the town grew, it was moved from its original site at the corner of Second and Borden Streets to the present North Main Street site. That building was destroyed in September 1983 by an arson fire. Despite financial difficulities, the present building was erected; it was dedicated in June of 1986. All that was rescued from the old church were the Revere Bell, the baptismal font, a stained glass window, two marble plaques, and some pictures---and a strong faith and a sense of determination!