About The Unitarian Church in Fall River: Our Mission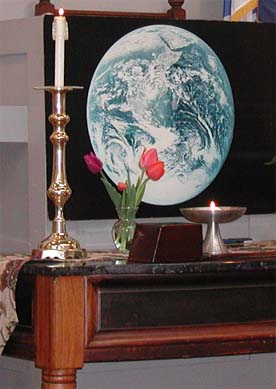 In 1961, the Universalist Church of America merged with the American Unitarian Association to form the Unitarian Universalist Association, a denomination with more than 1,000 congregations in the United States and Canada. The Unitarian Church in Fall River is affiliated with the Unitarian Universalist Association of North America and is an ethical and liberal religious community dedicated to promoting the ongoing search for truth and to affirming the inherent worth of the individual.
We understand reality through human experience, enlightened reason, scientific method, and the democratic process, and we find the central source of power and goodness within the human heart, mind, and spirit. Individually and collectively, we assume responsibility for our future, our community, our children, and our interdependent world.
Our growth and actions as thoughful, compassionate, and ethical human beings advance our humanist vision of a world of peace and love, dignity and equality, freedom and justice.
How We Operate
We are organized democratically, or as churches say, we have congregational polity. That means the congregation owns its own property and makes its own decisions. To oversee the week-to-week operation of the church, we have a Standing Committee and several other committees. Standing Committee members and officers are elected and major decisions are made by the congregation at an annual meeting or when special meetings are called.
Only members may vote at congregational meetings. Membership is open to anyone in sympathy with the church and requires only that you sign our membership book and contribute to the church in an appropriate manner.
Our Annual Meeting takes place in the Spring season. As part of the Annual Meeting held on April 6, 2014 a unanimous vote was taken to include the following Affirmation Statement as an amendment (addition) to the bylaws of the Unitarian Society in Fall River. "The Unitarian Society in Fall River affirms and promotes the full participation of persons in all our activities, including membership, programming, hiring practices, and the calling of religious professionals, celebrating diversity and human differences reflecting race, ethnicity, gender, gender id, and expression, genetic info, sexual orientation, age, class, mental and/or physical ability, educational achievement, military status, religious belief, political affiliation and other conditions or preferences."