Volunteer Opportunities
We will publish news of any volunteer opportunity as it becomes available.
We are presently looking for volunteers to help clean out the over and under growth in the Play yard. If you care about the look of our house, perhaps you can come down and help us take care of the grounds.
Committees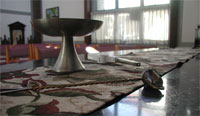 The Unitarian Church in Fall River is a cooperative endeavor, and we need you to help us be successful! Join one of our committees, including the Sunday Programs, Fellowship and Membership, and find yourself among friends!