Newcomers - Welcome!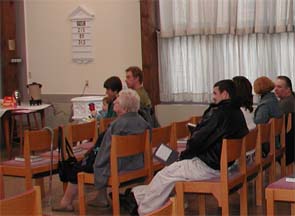 We are glad you are here! We join together in freedom to celebrate life in its infinite variety, to worship whatever we consider to be of supreme, creative power, and to lift up our concerns for the welfare of this planet and the human family upon it. We value the wisdom to understand, the willingness to feel compassion, the ingenuity to discover a new perspective, and the courage to love.
Our worship services are varied reflections of our wide interests, and what we "are like" today will not necessarily be what we "are like" on another Sunday. Sometimes we are intellectual, sometimes we are emotional, sometimes we are unashamedly spiritual; together we are as varied as all of us are individually.
Our services are held every Sunday at 10:30am, followed by coffee and fellowship in our church hall. We are located at 309 North Main Street in Fall River. We are handicapped accessible and have ample parking in our lot behind the church, as well as parking on North Main Street. We will be on vacation during July and August, and will start our next year of insightful and thought provoking services on September 3rd. For more information, visit our website at www.unitarianchurchfr.org
Some find us very modern, but we are not new. Unitarians organized in this country in 1825, and we began here in 1832. We have been growing and changing ever since. We would welcome you to grow with us, to join us on the quest for everything of value. And if you would like to make your affiliation with us official, please ask to sign our membership book.
Be sure to visit with us during the coffee hour after every service! There is more information about us and our church in the pamphlet rack.
Things you might want to know
Dress at our church is informal. Visitors will feel comfortable in business casual to contemporary social attire.
Greeters will be glad to help make your visit comfortable and enjoyable.
Some of our members are sensitive/allergic to chemical scents. Strong perfumes are discouraged, including those in soaps and shampoos.
We have ample parking in our own lot behind the building.
We are handicapped accessible.
Want to know a little bit more? Try this link to our PSA. Short and to the point. www.youtube.com/watch?v=-RxqIBnY9kw&feature=share